I was on Twitter the other day when a well-known female performer posted a trailer for content she produced for her ManyVids page. In the video, she has her hair up in pigtails while holding a stuffed bunny. She walked into the bedroom and says, "Daddy, I can't sleep." He assured his little girl that's okay she could join him, and well, they had sex.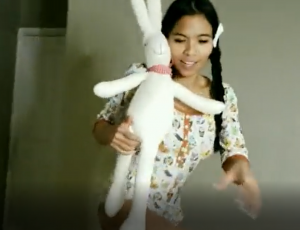 The implication is clear. She's roleplaying a child who has sex with her father. 🤮
But that raises the question … if it's not real, is it legal?
Should this girl who is pretending to be an underage child and having sex with her dad go to jail? Is it fucked the fuck up? Oh, for sure. But is it ILLEGAL?
I'm not a lawyer, but in a case from 2002, "Ashcroft v. Free Speech Coalition," the case established that simulated child pornography is protected free speech.
Yeah, you read that right. The FSC argued that pretending to be an underage child should be legal.
It is at this point I stopped my research into this post to go to the FSC website and cancel my membership. If this is what they spend their money on, I will have to say hard pass.
But after I did that, I went back to my research to find that not so many years ago, director Max Hardcore recorded a video where he dressed a female performer up as a 12-year-old little girl. In the scene, he asks her how old she is, and she says she's 12 and a half. Yes, they go on to have sex.
This 9-second clip was from the scene from the Max Hardcore movie Universal Max 4. The girl in question, known simply as "Courtney," only ever did the one video, and in the scene, she did anal, got a golden shower, and the scene ended with a facial, all while playing the role of an underage child.
Yes, in real life, she was over 18, but she played the role of someone who was 12 and a half years old. 🤮
So if fantasy isn't reality, then is fantasy legal?
Again, I'm not a lawyer, so for the love of God, don't take anything I say as legal advice. 
I can only cite previous cases and note that in the case of Ashcroft vs. the FSC, they fought to allow porn performers to play the role of children in movies.
They fought to make this legal. They fought to make it protected speech.
If the thought of this makes you want to throw up, you aren't alone.
🤮🤮🤮🤮🤮🤮🤮
I don't even know what to say to that. I'm honestly having a hard time understanding why that was the battle those chose to take on.
But moving on to the actual point of my post today … if it's fantasy, is it legal?
And it turns out the answer is yes and no.
It appears the line is drawn when it comes to consent.
As in the previous example, the female consented. She knew she was playing the role of a child.
But when it comes to AI-generated porn or what many of us call "deep fakes," the person in question isn't consenting, they have no knowledge of these things taking place, and as such, it may be the very line that crosses that legal barrier.
Years ago, Pornhub was quick to ban all deep fake porn. Their theory is, if a person can't consent, we don't want it on our website.
Now Reddit has joined them in taking a stand against AI-generated porn. Reddit has now blocked at least four subreddits responsible for sharing images created with the Stable Diffusion artificial intelligence tool.
Two of the main subreddits where these images have been shared, r/UnstableDiffusion and r/stablediffusionnsfw have been blocked. As have two others: r/PornDiffusion, r/HentaiDiffusion. Users attempting to access the site are greeted with the message: 'This subreddit was banned due to a violation of Reddit's rules against non-consensual intimate media.' Between them, the four subreddits had around 2,000 members.
Using the tool, many fake celebrity nudes have been created, despite the creator of the tool asking them not to.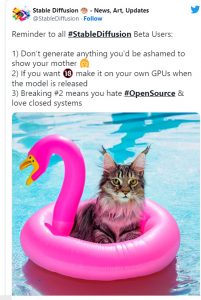 Many years ago, we used to follow the supreme quote rule, if it looks like a duck and quacks like a duck, it's a duck.  This means, if you are going to pretend like you are 12, we will treat you like you are 12 and charge you accordingly.
I'm perfectly okay with this ruling. Why? Because, well, why do we need to pretend to be 12 years old on camera? That is just not right. I'm sorry. No. Just no.
The same thing (at least to me) goes for simulated rape.
CONSENT IS KEY.
The person isn't consenting to anything with deep fakes, so that makes the difference, at least to me.
Again I'm not a lawyer, so what do I know?
But morally, I can say that anything short of full and complete consent isn't okay.
But there is more!
On the other side of things, people like Jada Kai who make these fake child porn videos, give anti-porn groups like NCOSE ammunition to use against us, legitimate people in the adult industry. Her little video is exactly the time of thing these big anti-porn groups need to attack us.
They can use these kinds of videos to get lawmakers to make rules to make real porn production illegal.
They can use these kinds of videos to get banks to shut down our checking accounts.
They can use these kinds of videos to get Visa and Mastercard to put harsher regulations on us.
So while what Jada Kai and those like her did may not seem that bad on the surface, her single video could have major ramifications for all of us in the end.
You can't say this is a "what if," and it will never happen because it is happening right now. Yesterday multiple porn stars got letters in the mail from their bank telling them that, effective immediately, they are going to shut down their accounts and no longer do business with them.
What would you do without a bank account?
These are people who did nothing wrong. Their only "crime" was working in porn.
If you think it won't happen to you because you aren't doing anything risky in porn. Think again.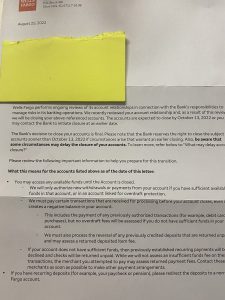 When we give anti-porn groups like NCOSE things to use against us, they will. They will then take those kinds of videos and share them with all of their very powerful banking friends and lawmakers, and then all of the sudden, you now have to explain to your bank that what you are doing isn't illegal, but they won't care. You are too "high risk" for them. And it all starts with a video of a porn star pretending to be an underage girl.