23 year old content creator named "Princess Adeline" posted a racist video on Twitter recently. She says she is paid to insult, degrade and humiliate "losers," and for the right amount of money, she'll do it to you too.
Here is the tweet she made about the video.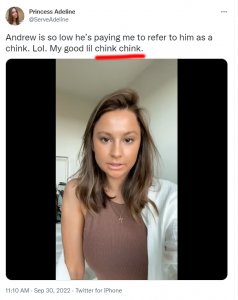 And here is the actual video she posted to go with the tweet.
Those who have been in the adult industry for a while know that taking money to do customs for things like raceplay always backfire.
It doesn't matter if a guy paid you $500 to call him the N* word, in the end, you still used the N* word, so you are still the racist.
Or, in this case, she's calling an Asian guy a chink.
As you might have imagined, there is a big uproar about it, and she'll probably end up losing her Twitter account as a result. But she doesn't seem to care. Here is a message to those calling her out for her racist and rather problematic behavior.
When it comes to the girls I work with, I always tell them to think twice before accepting money to do a custom that could become problematic. If it's not something you would do or say on your own, don't accept money to do it for someone else.
For those of you unfamiliar with the term, a custom or custom content is where someone pays you to make something custom just for them. For example, you could pay your favorite porn star to wear your favorite color of panties and say your name while they play with themselves.
Custom content is what has helped porn stars make an insane amount of money on platforms like OnlyFans and are quite popular with fans. The question is, how far should you go?