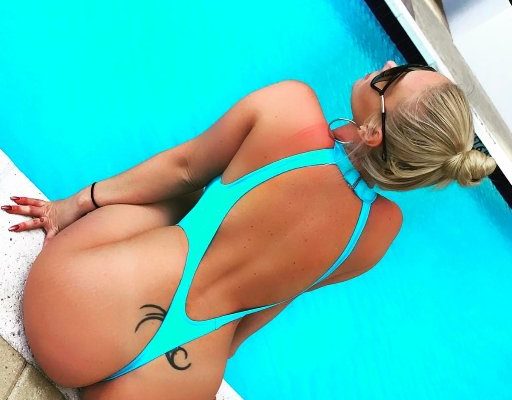 TMZ is reporting that there was an accident on a recent Cam Soda set where a porn star, Molly Cavalli was attacked by a shark and needed 20 stitches to close the wound. Molly Cavalli is actually the head of booking at Cam Soda in Florida (says her profile on twitter @iammollycavalli).
This has not been a good year for Cam Soda. First, the address of their cam house was outed by Riley Reynolds of Hussie Models, who at the time was living in the house and decided to start using the address on various documents that were part of public record. Next, the house got "visited" by the cops (at least twice) and then if that wasn't enough, recently the house was forced to close due to code violations. In other words, thanks to Riley Reynolds of Hussie Models, they got busted running a cam house in a small town that didn't allow it.
And now this.
Camsoda model Molly Cavalli was bitten while broadcasting from a shark cage. In Camsoda's first live underwater broadcast attempt, Molly Cavalli jumped into a shark cage off the coast of Florida.
The underwater broadcast had to be cut short when Molly's foot stuck out of the cage and was bitten by a lemon shark. Don't worry though, Molly is doing just fine. She had to get 20 stitches but she is in good spirits and grateful for her quick recovery.

First pioneered with POV guy, Camsoda has been working on a mobile hardware solution that allows models to broadcast from anywhere in the world. The custom built hardware was recently upgraded to support go-pro cameras and underwater live feeds.
I hear Molly Cavalli is okay and recovering well. Watch the video below, it's brutal. Poor girl.
TMZ: A porn star shooting an underwater ad for a sex cam company was attacked by a shark and badly bitten.

Molly Cavalli dropped down under water into a shark cage wearing a hot white swimsuit and her presence apparently enticed a 10-foot lemon shark.

Check out the vid … Molly panics when the shark approaches, and next thing you know she's screaming as she clutches her bloody foot.

The crew pulled her up to safety, but the shark had done some serious damage … it took 20 stitches to close the wound.
IMPORTANT UPDATE:
This story turned out to be a publicity stunt. Nobody was hurt. Everything was totally and completely staged.