I heard earlier that she prayed for all porn stars to die or at the very least get some sort of serious illness. Then earlier today she posted this on her Facebook page.
Looks like more pornstars are dying or have died! Yikes! You all better get out of this industry asap because more deaths and deadly diseases will hit this particular industry very soon because I prayed for it to be! God is now working his way to make this happen!
Don't say I didn't warn you all! I suggest those in the porn industry to repent of your sins so that you MAY be saved! FOR THE WAGES OF SIN IS DEATH!!!!!!!!!!!!!!! Those who laugh will be mourning and looks like that hour of mourning is finally here!!!! Hallelujah praise the God of justice! #DeadPornstars #Sin #Death #GetOut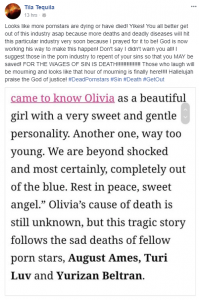 Over the last few days she has been tweeting and posting strange bible heavy messages including her desire for all porn stars to die. She also apparently has it in for all the Jews of Hollywood and all of California.
She's actually cheering that the California floods have so far taken 9 lives. Man she is one crazy bitch.