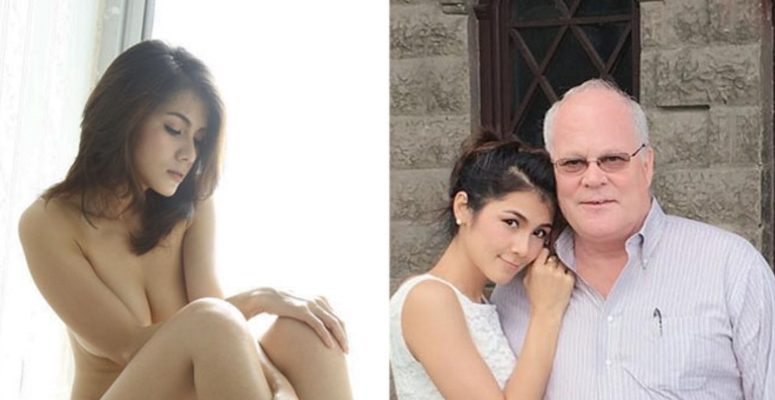 In 2012, a former porn star by the name of Nong Nat, from Thailand quit her job, converted to Buddhism and married herself a rich, older man.
She's 31, he's 72.
Much to nobody's surprise, the marriage didn't last.
It turns out the man has a heart condition and if they have sexual relations it might be to much for his poor heart to endure and he could have a heart attack.
Nong Nat was first in the news in 2003 when she was arrested after police identified her in seized porn tapes in Thailand where adult movies are illegal.
Making porn in Thailand is a big no no.
In this particular case she got lucky and was only fined, but after it was all said and done she quit her career in porn and and devoted her life to Buddhism. Big money offers came in, but she stuck to her guns and left her porn past behind her.
Years later she met Harold, a wealthy American architect, with whom she fell 'instantly in love with'.
They married in 2012 but Nong Nat previously admitted that it was beset with problems and she had a serious of other lovers in the early days.
5 year later she's now filed for divorce because they can't have sex. Well, at least that's the reason she's giving.
Her husband apparently doesn't want their marriage to end, but she is pushing forward with the divorce. He still showers her with money, but that doesn't seem to be enough.
"Other than receiving kindness from my husband from his monthly payments, he has also been giving me extra money, too," she said. "No matter how much he withdraws from the bank, he splits it with me 50/50.
She has decided to get a boob job and make a living as a nude model.
"I'm having a breast operation, it will help me with work. I won't do adult movies, they're only what I was involved in when I was young. But I'm going back to do sexy films and photographs. There's a magazine deal arranged and sexy shows. I have diamonds already and enough money. I don't want to work but I have to, to support myself."