Adult performers and content creators who are attending XBIZ Miami won't want to miss this year's all-gender XBIZ Miami Swimsuit Contest on Tuesday, May 16th, at 6pm est.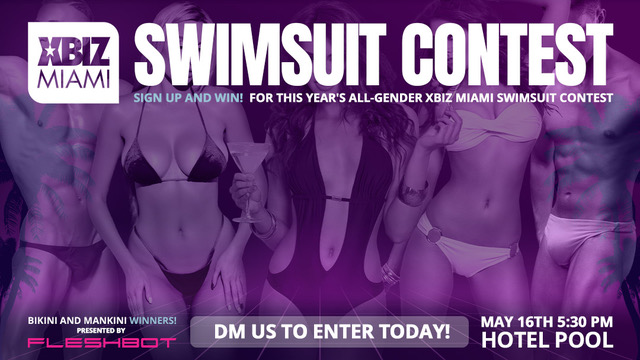 The Best Bikini and Best Mankini winners of this fierce and super-sexy competition will win an Apple Watch. Fleshbot.com is returning as a sponsor to this annual event and will be on hand as your emcee with giveaways. Other sponsors include Amateur TV, Cams.com, Cherry.tv, ImLive, and Streamate.
Fleshbot has been the web's favorite source for news and reviews from the world of adult entertainment since 2003. With more than a million visitors a month, more than even AVN and XBIZ, Fleshbot is THE source for all things adult. Over the past decade, it has become the one-stop spot for the discerning adult content enthusiast and has been profiled in such publications as Wired and The New Yorker. Fleshbot.com covers both the straight, gay, and trans markets, making the content-based blog a truly unique leader in its realm.
Alexander, Director of Fleshbot Gay, shares, "I am still recovering from last year! What a fun event under the Miami sun and seeing some of your favorite content creators from the straight, gay, trans, and everything in between worlds come together to strut their stuff. We certainly celebrated the community in all of its shapes and orientations…can't wait for this year's event.
This will be bigger, hotter, and stiffer (I mean the drinks) than ever!"
XBIZ Miami is an industry-only event put on each year by XBIZ.com. It's a mix of professional development, networking, and boisterous poolside fun.
Anyone attending XBIZ Miami is able to submit their social media handle to events@xbiz.com or by sending Fleshbot a DM @Fleshbot or @FleshbotGay on Twitter by May 11th to be entered into the swimsuit contest.