The industry has gone through a major change. Now porn stars have become content creators. And as a creator of content, what we refer to as producers in professional porn. These "content creators" are learning that far too many people steal their work.
As content creators, we learned real quick just how much it sucks when someone steals our content. The "OnlyFans leak sites" are a living nightmare for us and it seems like a never-ending battle to stop these guys from stealing what we create for OnlyFans and giving it away for free.
It sucks. Trust me, I know.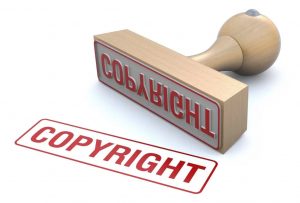 And it's become a never-ending battle of trying to stop websites from posting your content illegally.
The takedown or demand letter is what is known as a DMCA takedown request.
The Digital Millennium Copyright Act or DMCA for short is a 1998 US law intended to update copyright law for electronic commerce and electronic content providers. It criminalizes the circumvention of electronic and digital copyright protection systems.
In short, it's a law passed to help stop people from stealing your shit (anti-piracy).
The first thing you should know is, you must be the owner of the content that you are demanding be removed.
If you don't own the content in question, you don't have the legal right to demand it be removed.
Sending a False DMCA is a crime.
This means if you film a scene for a studio like Brazzers or Naughty America, even though you star in that scene, you don't own it. That model release you signed before you picked up your check was you assigning the rights to them.
If you film a scene for your OnlyFans page, then you own that content. You filmed it, you own it. That's the basics of how that works.
Last March Michael Vegas issued a false DMCA to try and have an article he doesn't like removed.
In his DMCA claim to Google, he claims that I illegally used photos (or videos) that he owned from his website "Peg Him".
In the article that I published, I used no images of him from his website or otherwise. What I did do is call him out for slut shaming porn stars. Slut shaming is misogynistic and it's not okay. Just because a girl is a porn star, doesn't give him or any man the right to try and slut shame a girl. He did this because a girl said she didn't want to have sex with him. He wanted to force her to have to perform with him.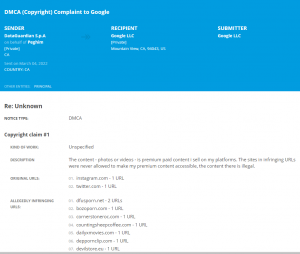 Obviously, that is not okay. A girl has the right to say no to anyone she wants for any reason. A girl doesn't even have to give you a reason. HER BODY HER RIGHT!
I called him out for it. He wasn't happy about it and tried to illegally use the DMCA process to get the article removed.
While the DMCA law is great for stopping people from stealing your content, it's actually illegal to abuse it.
This is called copyfraud – in short copyfraud is a false copyright claim.
If you submit false copyright claims to companies like Google you can actually face punishment from Google itself. Imagine your name suddenly getting banned from Google and no longer being able to use Google services like Gmail, and Youtube.
But in addition to getting banned from Google, you also have other financial and legal consequences.
In civil court, if you send a cease-and-desist letter (a false DMCA) to an infringer, there is a risk that the infringer may file a lawsuit in the infringer's jurisdiction naming you as a defendant and seeking a declaratory judgment that your copyright is invalid. 
Criminally, iIf you send a DMCA takedown notice that is both false and meant in bad faith (such as to harass, or doesn't state a real claim), you have committed perjury. Though unlikely, if the party you sent the takedown notice to decided to pursue this in court, you could face all of the consequences that your state imposes on people who lie in court. 
Civil defamation penalties can be in the millions. While on the criminal side, you can up to five years in jail and a few thousand dollars in fines. As DMCA is a federal law these fall under federal perjury instead of the state.
When you file a false DMCA you are lying under oath. It even says it right there on the form prior to submitting it.
To "perjure" yourself is to knowingly make misleading or false statements under oath or to sign a legal document you know to be false or misleading. This crime is taken very seriously because the foundation of the legal system depends on trust and credibility. After all, just one sworn statement has the power to tip the scales of justice and dramatically alter someone's life.
As content creators, we have to take all aspects of the law seriously. This means we have to use the law to fight to stop people from stealing our content, while at the same time, being careful not to accidentally abuse the law that was created to protect us.
Believe it or not, many adult performers do this without even realizing they are.
If you hire a DMCA service, there is a very good chance they have filed a false DMCA on your behalf. Paying someone who lies on your behalf, doesn't get you off for the lie.
DMCA companies like DMCA Force and Brand It Scan are issuing false DMCA notices in record numbers on behalf of porn stars.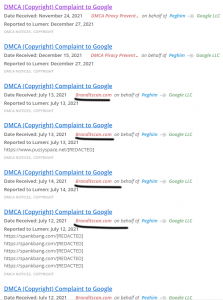 Out of the 424 DMCA's Michael Vegas sent out that day (the one where he tried to issue a fake one with me) I started going through the list. While some are legit stolen scenes from his website, not all. In fact, I found more than a few take-down requests for videos that didn't even star Michael Vegas at all, let alone belong to his website.
Michael Vegas isn't the only one doing this though. In fact, many porn stars make the mistake of hiring a DMCA company that sends out illegal take-down notices to major porn companies. And this becomes a big problem for you – the performer.
Imagine doing a scene for a company like Brazzers, Reality Kings, Elegant Angel, or BangBros. They paid you to do the scene. They own the content. You have no rights to it at all. You signed your model releases. You got your money.
Yet the DMCA company you hired issues a takedown notice demanding they remove the content. Why? Because they use cheap AI and don't check their work. They just randomly scan the internet for any content feature you or with your name and issue that takedown notice.
If they do this, it is likely those companies will start to put your name on the DO NOT HIRE list. In fact, that has already happened to more than 40 porn stars. Now no major porn company will hire those girls. Why? Because they hired a DMCA company like DCMA Force and Brandit Scan and those companies issued multiple false DMCAs in those girl's names.
Don't get yourself on a banned list – so that no company is willing to hire you by using one of those DMCA companies. It's just not worth the risk.
If you are having trouble with people stealing your OnlyFans content, hire a virtual assistant. Many will work for minimum wage and it only takes about 2 hours a month for them to send out a good number of DCMAs for all the big offenders. That's less than $30 a month and since it's being manually done, you know they aren't sending out false DMCAs on your behalf for those professional porn scenes that aren't yours in the first place.
You can't send out a take-down demand for content you don't own.