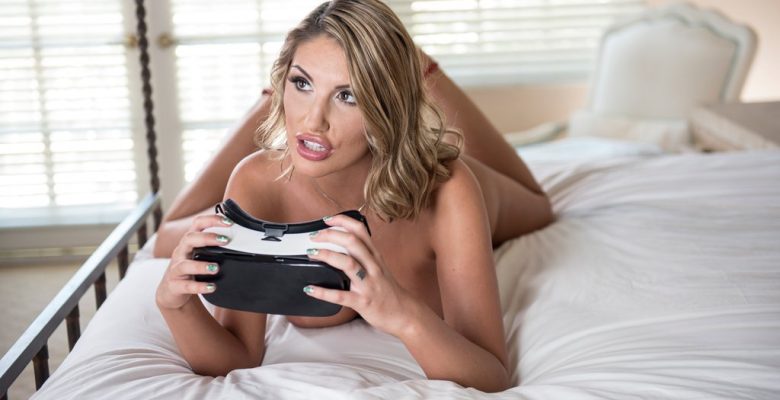 The incredibly sexy August Ames was featured in a story in Rolling Stone about virtual reality sex.
How Virtual Reality 'Sex Edutainment' Is Revolutionizing Porn
"Virtual Sexology" pairs an adult star with a sex therapist to bring Masters and Johnson techniques to the porn-enlightened public
For decades, porn has been blamed for creating unrealistic sexual expectations, and for some addicts, it's impacted the ability to have healthy sexual relationships in the real world. Now one adult entertainment company is using virtual reality – and one of the hottest porn stars out there – to teach guys how to have better sex, both for their own benefit and the benefit of their partner.
Virtual Sexology, a 180-degree video experience, stars 2015 AVN Cutest Newcomer August Ames, and can be viewed with anything from the mobile Google Cardboard or Samsung Gear VR to the high-end HTC Vive or Oculus Rift. It's been designed with the help of a real sex therapist, using methodology that is practiced around the world. Standing in the bedroom with the user, Ames guides you through a series of short, hands-on demonstrations – including breathing techniques to help focus on more pleasurable sexual intercourse and Kegel exercises to extend an erection or help prevent premature ejaculation.
It's based on the work of Dr. William Masters and Virginia Johnson – the real human sexuality experts featured in the on-going Showtime series Masters of Sex – who changed the field of human sexuality by introducing concepts like the ability for a female to have multiple orgasms through their bestselling book, Human Sexual Response. And to make the experience even more realistic, Virtual Sexology added a synchronized, real-world sexual experience, courtesy of a Kiiroo Onyx sex toy that mimics Ames' movements as she performs onscreen.
Before jumping into the "sex edutainment" game, Todd Glider, CEO of the BaDoink VR, the company that produced Sexology, says that they filmed over 80 "traditional" 180-degree sex scenes that run between 15 and 25 minutes each.
The idea to combine VR with sex education originated during a meeting at their headquarters in Barcelona last October.
"We were discussing what our company could address with this new mobile VR market," Glider says. "A lot of people have myriad sexual hang-ups, and because of immersive nature of VR, we could leverage that. We're not sex therapists, but we know about shooting adult entertainment. So we enlisted a proper sex therapist to create this program."
Glider found Hernando Chaves, a human sexuality professor and marriage and family therapist with a doctor of human sexuality degree from the Institute for the Advanced Study of Human Sexuality, to develop Sexology.
Chaves believes the use of VR as a sex therapy medium will be very beneficial, especially since a lot of people have not tried sex therapy in the real world. After all, VR is all about doing things in the privacy of your own home.
"One thing people do is use porn to express themselves sexually," Chaves says. "Sex education can be valuable to improve the quality of relationships."
In Virtual Sexology, Chaves incorporated popular, long-used techniques from Masters and Johnson to work with issues such as early ejaculation and performance anxiety.
Chaves also includes breathing techniques and mindfulness work to keep the user calm and relaxed during sex, since a heightened sense of arousal can cause fear or self-doubt in some people. These are also connected with exerting and enhancing ejaculatory control, so one can last longer during a sexual experience, and separate ejaculation from orgasm. And of course, all of this sex ed is coming from a naked porn star.
"It's a sexualized depiction of these things so people can be pleasured and turned on, but learn about things at the same time," Chaves said.
Kassia Wosick, assistant professor of sociology at New Mexico State whose work has explored many facets of human sexuality, likes the idea of Virtual Sexology. She says it reminds her of the work that adult actress and director Nina Hartley has done, becoming a sex educator and producing "couples-oriented porn" for educational purposes. She released a series of how-to videos for couples covering everything from bondage to great sex while pregnant.
"On the one hand, the industry has long been criticized for inadvertently – or perhaps intentionally – educating its viewers on sexual behaviors, practices and experiences, albeit in ways that the general population may see as problematic," Wosick said. "People like Nina have seen a real opportunity in capitalizing on the fact that we, as Americans, need more sex education on an individual and collective basis. Asking questions, needing information, and seeking guidance for sexually-related matters has been quite taboo."
There's another component to Virtual Sexology. Using "teledildonics" technology, male users who purchase a $200 Kiiroo Onyx sex toy can feel like Ames is in the room with them. (It is essentially an internet-connected variation of the Fleshlight.) Dinorah Hernandez, who directed the new experience, says the Onyx syncs to Ames's movement as she performs. So if she starts stroking the penis from top to bottom, it creates a wave motion that replicates that in the toy.
Chaves believes teledildonics can help with the stop-start method, where the penis is stimulated to the point of orgasm but stopped beforehand to extend the plateau stage that Masters and Johnson identified in their research. Couples who are dealing with premature ejaculation can work together even if they're not together in the room.
"Many men will experience anxiety in transitioning from solo masturbation to the real sexual experience with a partner, Onyx and Virtual Sexology can be a transitional bridge into real life," Chaves says. He believes virtual reality will help debunk the myth that porn is destructive to healthy sexual relationships.
Another seeming benefit of bringing virtual reality to porn is the way it's changed the role women play in the videos.
Hernandez says there's a misconception with porn that women don't have agency, but in VR you see women who are active and asserting themselves with different positions.
"The female is on top and she is in control and we highlight those necessary parts [in Virtual Sexology] like stimulating the clitoris," Hernandez says. "It's less about the male and their stroke and thrust, and more about women having a focal point on their bodies and the sexual experience. That's a powerful notion to have women have agency and control and ability to experience pleasure."
When Hernandez first tried out VR porn last year she was immediately hit with the intimacy of it.
"It feels like the girls are right in front of you," Hernandez says. "You shut out the rest of the world and you're put into this scene. It's more of a personal experience."
Ames, the star, says this dynamic also puts all of the control in the hands of the actress.
"The man basically serves as a log and the girl does everything in a VR scene," Ames says. "I love being in control of the sex. I hate a guy manhandling me in a traditional scene. If the guy was in the VR scene it wouldn't be a personal experience for the viewer. The male performer is supposed to be the viewer."
BaDoinkVR's target audience is still overwhelmingly male, and Hernandez says a lot of the company's subscribers don't appreciate hearing the male actor talk or even seeing his arms, because it breaks the immersion. Her direction for the male performer is to breathe softly, don't speak, and just lay there.
"We've seen this dynamic change from traditional porn where two people having sex depended on male empowerment over the girl," Hernandez says. "The girl has to take control of the whole scene and do all of the work in terms of switching from cowgirl to reverse cowgirl or handjob to blowjob."
If Virtual Sexology connects with its audience, Glider sees this as just the beginning of a new franchise that will expand beyond the male perspective.
"This first sex therapy video has techniques for both men and women, but we do want to switch around to a female perspective so she sees her body and takes advantage of VR," Glider said.
Kiiroo has already released the Pearl sex toy for women, which is an interactive vibrator, but Glider says it's currently only programmed for two-way Bluetooth communication and is not yet ready for integration with VR video. But that's in development at Kiiroo, so in the future a woman can feel the penetration that she sees in a VR experience.
And BaDoinkVR is also investing more resources into virtual reality. With Oculus Touch launching this fall alongside PlayStation VR, and HTC Vive already supporting virtual hands, Hernandez said increasing immersion is a key focal point.
"We need to find a way to interact with the model that's satisfying to the user, maybe more about vibration and feeling touch," Hernandez says. "What would be more interesting is if the model could react in a different way. If the tech team could figure out a way to program touch hot spots and she could react a certain way based on where you touch her, that could get a lot of people interested."
Glider says Virtual Sexology is just the tip of the iceberg.
"This opens the door and if it catches the public imagination, we can drill down to a myriad of sexual problems and hang-ups," Glider says. "We can program for things like fear of intimacy and erectile dysfunction, and touch on a lot of these things in a nice way."
Glider has watched as the public has become far more open and accepting of porn, which could soon be "just another form of entertainment." At the same time, many people deal with the same sexual problems that Masters and Johnson discovered back in the 1960s. Virtual reality opens a private door into a very modern solution to a very old problem: how to have better sex.
Source: Rolling Stone