Rachel Starr has two scenes in Brazzer's Hottest Videos this week. It's impressive enough to have one scene trending, but Rachel Starr has two.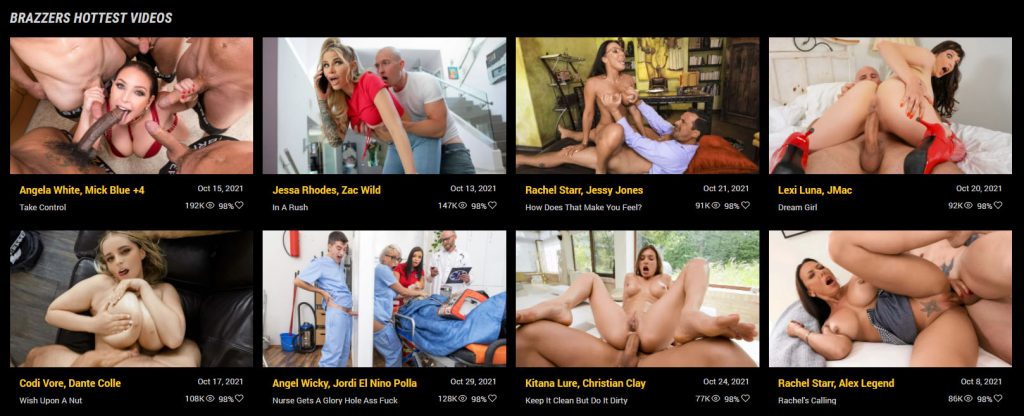 Each week Brazzers highlights 8 of their most popular scenes, and this week two of Rachel Starr's latest scenes land on that list. The first is How Does That Make You Feel? and the second is Rachel's Calling.
While therapist Rachel Starr listens to her patient, Jessy Jones, expressing how frustrated he is with his girlfriend, the doctor doodles a big cock on her notepad – she's clearly got sex on her mind! Horny, and looking to help Jessy with his issues, Rachel strips while he lies in the chair, eyes closed, stunning him when he opens them and sees the gorgeous naked babe standing above him, looking to satisfy his needs – and her own, with an unorthodox sexual therapy session! Jessy licks Rachel's pussy before she fills her mouth and pussy with his hard cock, fucking in her office until he feeds her his cum!
The hard-working Rachel Starr has a new exciting job and leaves her husband, Alex Legend, home alone for the day. Rachel is very secretive about her new occupation, but the kind Alex lets her get away with it. Bored in the middle of the afternoon, he decides to call a sex hotline. After an unforgettable dirty talk over the phone, the mysterious woman at the other end of the line asks Alex his name and hangs up. A few minutes later, here comes Rachel, running back in the house, dressed like a sultry pin-up and ready to fuck. Alex finally understand that all this time, he was being teased by his hot girlfriend over the phone.